Imposition Wizard 2.5
12 Feb 2015
Version 2.5 of both Standalone and Acrobat editions of Imposition Wizard brings some nice new features that you will love to see.
Acrobat version
Shuffle editor
The new version features a nice shuffle editor which allows you to place pages over the sheet using a mouse. Switch to the shuffle mode, then click the Shuffle Editor button to activate it. Although we do our best to automate the most common layouts, there's always a complex one that doesn't fit. Here's how you can do it now: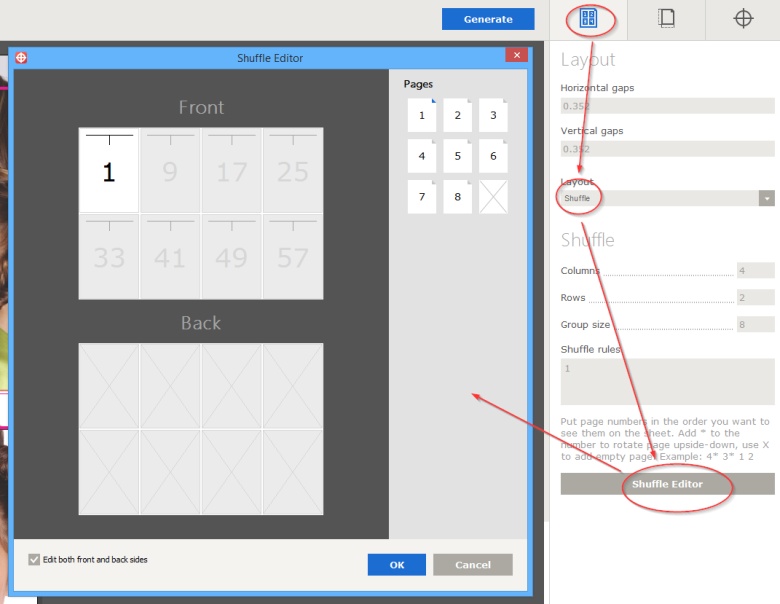 Faster preview
Another nice addition is the page preview rendering mode. Some heavy PDF files may work really slow because of the number of artwork there. Since version 2.5 Imposition Wizard can speed the things up by pre-rendering source document and caching the raster images. This way you get a faster preview with lower quality, but the end result is still the same.
There is also a Wireframe option that completely hides the source document's pages to make the application running even faster. Once again, this option doesn't affect the imposed document, just the preview.
See it in the options menu at the bottom right corner: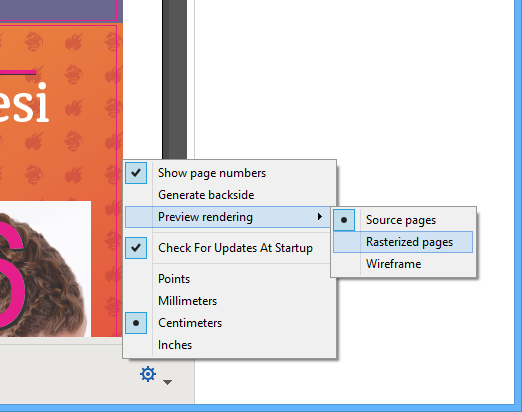 Backside options
There are two more options for back side content: you can now flip and shift it at the Duplex printing section of the Sheet tab. Both features allows you to better fit the document to your printer's parameters.
Other improvements
Here are the brief list of what else has been done:
Content offset added to the Centered mode - now you can shift centered pages, as well;
Color bars can be attached to the sheet, not to the pages. Combined with the ability of using your own images, this allows you to add your own marks or targets to the sheet;
Some issues fixed related to the Minimal sheet mode, imposed document generation and the last project settings saving.
Standalone version
Since this update we matched the version numbers for both apps, so the Standalone edition was updated from 2.1.1 to 2.5, do not be surprised.
New features
The new features include sheet-relative color bars that allow you to add custom marks to the sheet. We also enabled drag-and-drop of the color bar images, so you can now drag your favorite color bar PDF into the selector to use it.
Backside offset option has been added, as well to match the Acrobat version.
Statistics
Imposition Wizard may ask you to collect some statistics about the jobs you do. We'd really like you to allow this, as this helps us to know what layouts and features are the most popular and focus on them. The information does not include your personal details, file names or documents - just the imposition settings like the layout type or page dimensions.
You can always change this in the Preferences window later.
Cheers!