Imposition Wizard 2.10
27 Apr 2017
This is the first "combined" version of Imposition Wizard, where both Standalone and Acrobat versions of the software come as a single installer. It also features the very early preview of Standalone version for Windows and some new features. Keep reading for more details.
So What Happened?
It all started here and today we make the first step towards the single version of Imposition Wizard for both Acrobat and Standalone modes.
No worries for Standalone users, your good old Imposition Wizard Standalone is still there and you can keep using it for as long as it satisfies your needs.
What has changed is the way we provide the applications for downloading. Until today you had to choose what version to download: IW for Acrobat or IW Standalone. Since today you simply download Imposition Wizard and then decide what options you need to install. We also unified license keys, so they work for both versions of Imposition Wizard (valid for licenses purchased in April 2017 or later).
Notes for Mac Users
When you download the update, you will be offered the new options in the top row of icons: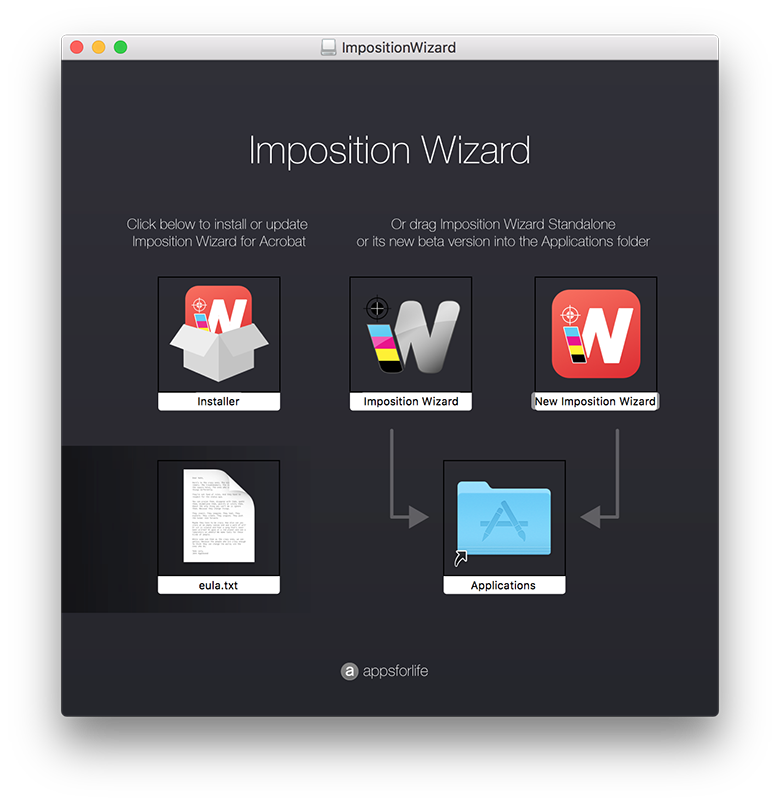 The very left icon is the installer that lets you install or update your Acrobat version of Imposition Wizard. Then comes the "classic" Standalone version of Imposition Wizard, and at the right there is a new beta version of Imposition Wizard that you are welcome to try.
This new version is based on the Acrobat version user interface, but doesn't need Acrobat to work. Instead, it uses the same PDFKit engine, as the "classic" Standalone version of Imposition Wizard. This new version is quite stable and can be used in production. We plan to completely replace the "classic" Imposition Wizard with this application in the 3rd version.
If you miss something in the new version - let us know, so we can fix that.
Both old, new and Acrobat versions of Imposition Wizard can work together and should not affect each other.
Notes for Windows Users
You'll notice the new option in Windows installer of Imposition Wizard: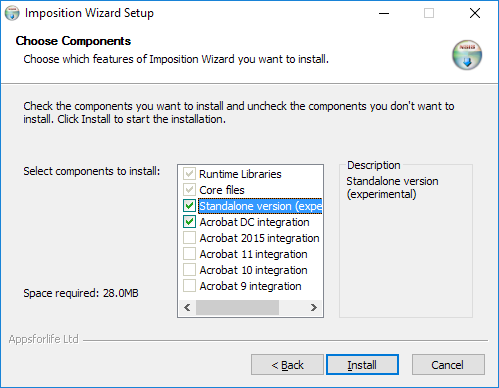 It is called "Standalone version (experimental)". If you check it, you'll get a copy of our new beta-version of Imposition Wizard Standalone for Windows. The application is pretty new and has some issues in preview, but still can do all the impositions and imposed files should work perfectly fine despite the preview issues.
We highly encourage you to try the new Standalone version and let us know what do you think, what is missed and what doesn't work for you.
Notes for both Windows and Mac Users
Best of all, the new version of Imposition Wizard Standalone supports command line "batch" imposition mode. Here's what you can do on Windows:
ImpositionWizard.exe --impose --project=my_preset source.pdf result.pdf

The same on Mac:
ImpositionWizard.app/Contents/MacOS/ImpositionWizard --impose --project=my_preset source.pdf result.pdf

In both cases you'll get your source.pdf imposed with project "my_preset" and saved to result.pdf. Forget about AppleScript and use your favorite hot folder or batch processor to impose documents. This new feature gives Windows users a chance to setup automatic imposition as well, which wasn't possible with the Acrobat version of Imposition Wizard.
Once again, although the preview is not yet perfect in Imposition Wizard Standalone on Windows, imposition itself works more than fine.
Any Other Improvements?
Sure, here's the list:
Inverted crop marks option has been added;
Crop marks can be shifted in or out the trim box;
Trim line option has been added (also with shifting);
Cut stack parameters are now saved properly;
Backside flipping option has been fixed;
Presets window has been made bigger to fit more items;
Switching input fields with TAB key has been improved;
New nice icon has been added for Windows 10 "Start" menu;
Fonts have been improved for the latest Mac OS.
Besides that we've fixed some minor issues here or there to make Imposition Wizard a little bit better. If you think that something still needs our attention, we've got a special place for that. Share your ideas there and vote for others' ones.
That is all for now, please leave your feedback below.
Have a nice day!